What is EDI?
EDI or Electronic Data Interchange is no more than what it literally means: an electronic data interchange between two computer systems.
In the real world it means that electronic representations of business documents such as Sales Orders and Invoices are exchanged between business partners through private/public networks in a common standard message format. These standards are governed by bodies such as ANSI ASC. For example EDI 850 is referred to as ORDERS which is used for Purchase Orders, EDI 810 referred to as INVOIC for Invoice documents.
The best thing about EDI can be summed up in two words: Consistency and Flexibility.
Consistency and Flexibility: EDI in SAP World
The IDoc interface always works the same way in SAP following the same processing sequence irrespective of the functional area or application along with the same processing and monitoring tools. When an IDoc posts a transaction it runs the standard SAP data load programs as if a user were manually creating the same document.
This consistency is combined with a high degree of flexibility: the IDoc can be extended or reduced to accommodate special circumstances; user exits can be coded to enforce custom validations or rules before the IDoc posts; custom functions can be written to process standard or custom IDocs.
A Bird's eye view of the Inbound Processing of EDI messages in SAP: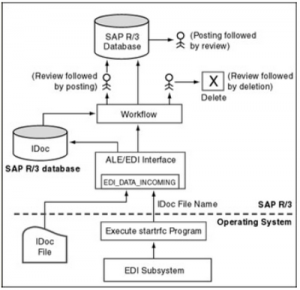 Why EDI?
EDI saves a lot of expenses for an organization by replacing information flows that require lot of human interaction and paper work (like faxes, documents, etc).
Cost of manual entries is eliminated as data is sorted and manipulated electronically on systems.
It also reduces shipping and billing errors since the EDI eliminates the need to re-enter documents on the destination.
A very important advantage of EDI over paper documents is the speed with which the business transactions are incorporated in the business partner's system greatly reducing the cycle times.
Breaking EDI puzzle into its pieces – With and Without EDI