ABAP New Debugger has few more additions to the debugger as well. Since ABAP release 731 which is delivered as part of ECC 6 EhP6 Release 7 EhP6, you can have conditional breakpoints.

Introduction
ABAP Release 731 has new addition in the Breakpoint tab. Now, you can add conditional breakpoints. This would be very useful when ever you would need to debug within LOOP or the code is being called in iterations.
New Debugger – Add Conditional Breakpoint
When you add the breakpoint and execute the application, system would stop at the statement. Once it would stop, you can choose option "Create Breakpoint Condition" from context menu (right click).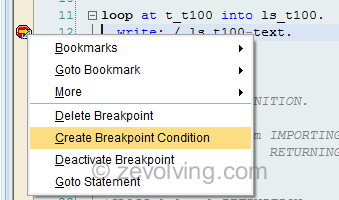 Subsequently you would see the popup to enter condition. This is a free text editor where you can write a condition. If the condition would satisfy, debugger would stop at that breakpoint. For entering the condition, you can use the help button on the Popup.
As you can see in this screenshot, it has stopped when it met my condition.
You can also add the Breakpoint using the create Icon in the Breakpoint Tab in Condition column. When you have a condition, it also changes the ICON just to let you know if there is a condition or not.
Use Breakpoint Condition
Currently you can use Watchpoint to watch a single variable. If the value gets changes, debugger would stop mentioning the watchpoint reached.
Think of a situation where you have tens of thousands of records. You want to stop for specific record. Without conditional breakpoint, you would need to find the specific record using the multiple field conditions. With using the Conditional Breakpoint, you can add the condition to the breakpoint to stop the debugger.