Smartforms has a nice tree display but it doesn't provide Search functionality in the tree. This trick provides way to find the node easily.

Scenario
You are getting a short dump from a SmartForms. You able to find out the line of code which gives short dump from ST22. This reveals that the error is in the one of the program lines node in the Smartforms. Now, you scroll a bit up to find out the name of the Node. For example, the error is coming from the line # 40, of Program lines GET_ITEM_CONF of Smartforms SD_SDOC_FORM02.
Most of the time, only this information is not enough – as you would need to fix it. As now you need to locate that node in the Smartforms Tree so you can make necessary changes. Certainly you can start doing the back tracking by doing the where used and looking for the subroutines and from where its called, till the time you get the original node. Since this too much manual and boring here is the easy trick to find the node.
Activate the Additional Service for Control
The Key point here is to activate the additional services on the Controls. This Part of the SAP GUI. You can do it via, GUI Options > Interactive Design > Control Service. Here you would need to activate Enable Additional Control Services.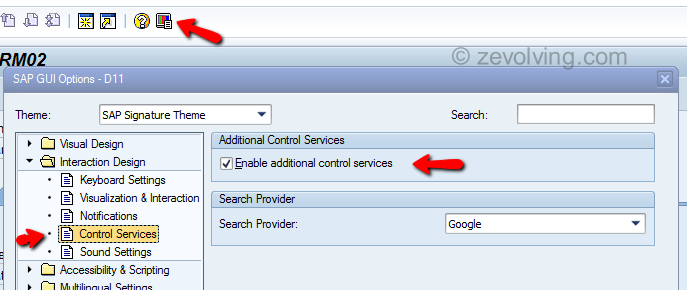 If you don't have services active, you would get this context menu on the control
When you have Services active, you would get this menu
Print the Tree and Search
Now, use the print option to generate the Print. Since this print function is part o the GUI, it calls up the default browser to display the tree. The print web page also has nice ICONs as you see them in SAP screen. Use built Search functionality of the browser to find the node.
Steps to follow:
Expand the tree. Context Menu > Expand
Print the Tree. Context Menu > Services > Print
Search. Web Browser's built in Search to locate the node
Conclusion
Now you can easily find out node's location in the Smartforms tree using this trick! This is applicable to all the tree controls.