Poll Wrap-up for the Poll – Your Preferred Option for Code Modularization

Few weeks back, I have asked question in the poll:
Your Preferred Option for Code Modularization
Results
Majority of readers has voted for the option Methods in a Class about 53%. I like that many & many developers want to go towards the OO ABAP. Keep it up!
Subroutines got about 28% votes – Second favorite option. With Function Module got about 11% as the third option. If you have voted for either of these options – Subroutines or Function Modules, just word of caution, that they are getting obsolete from ABAP release 731. Rule in Function Modules and Subroutines on ABAP Help suggests like this:
Only use function modules and subroutines if they are necessary from a technical viewpoint. In these cases, do not implement the required function. Instead, call the relevant (local) methods.
Include (6%) and Macros (2%) are also preferred options for few fellow developers. Personally I prefer include to segregate by modules, like Include for a local class definition, include for a local class implementation, etc. I don't suggest you to use Macros as at all as it makes very hard to debug.
On Graph
Results on graph: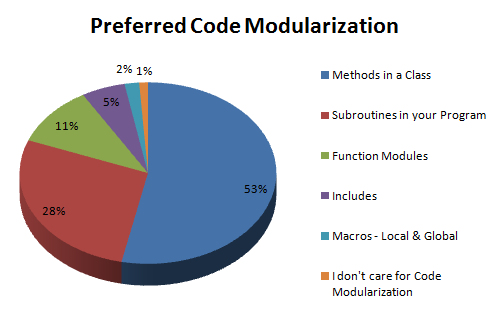 Next Poll – Commenting Your Code
New Poll Commenting Your Code is now available in the sidebar.