Tables or Structures can be enhanced as part of the Enhancement Framework using the Append structure option available in Data Dictionary.
Step to add new Fields on Table
1 Go to Data Dictionary transaction SE11
2 Display the Table
3 Select option Go To > Append Structure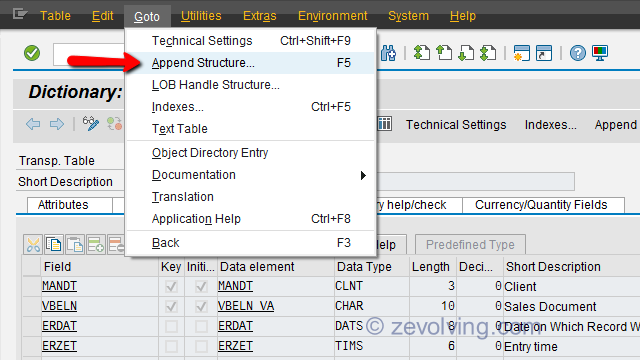 4 In the popup, you would see the existing Append structures
5 Select the Create ICON to create new Append structure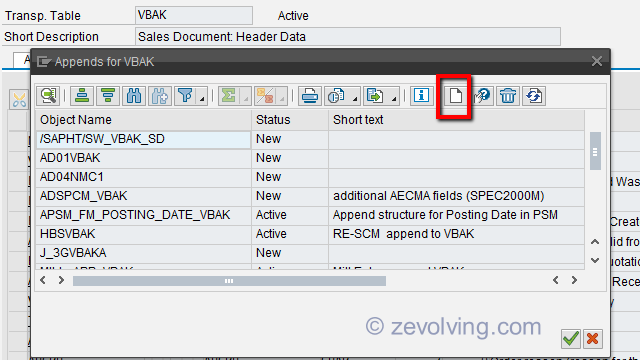 6 Provide the description and field names
7 Save and Activate
From the Popup, you can also delete the existing Append structure.
Importance of Enhancement Category
If you are not aware of the Enhancement Category, you should read through Enhancement Framework – Table Enhancement Category
You can only add fields in the append structure which satisfy the enhancement category for the main table. I refer the main table as the table, in which you are appending the new fields. E.g. Table VBAK has Enhancement category set as Character type or numeric. That means we cannot add the fields with deep structures. Only those fields are added which satisfies the Enhancement Category of the main table.
When you create the enhancement as an Append structure you need to assign the Enhancement Category, as you can still enhance this structure. The Enhancement Category can be assigned based on this relationship. ONLY equal or smaller option can be selected for the Append structure.
Cannot be enhanced < can be enhanced (character-type) < can be enhanced and character-type or numeric < can be enhanced in any way).
Append Structures as New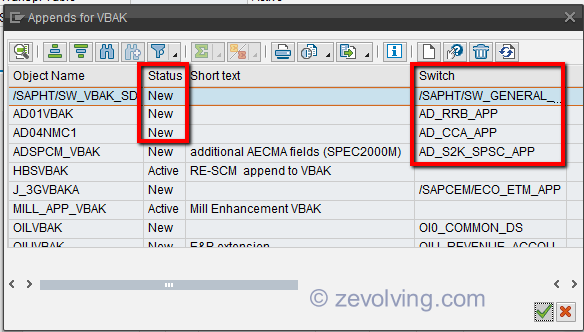 For the standard tables, you would notice the Append structures with status New. Many of the structures are attached to the Switch as well. The New Append structures are delivered by the SAP, which can be activated by the Switch. When switch gets activated, all the related objects including the Append structure gets activated as well. This will result into Main table activation as well.
The switch assignment can be found in the Attribute tab of the append structure.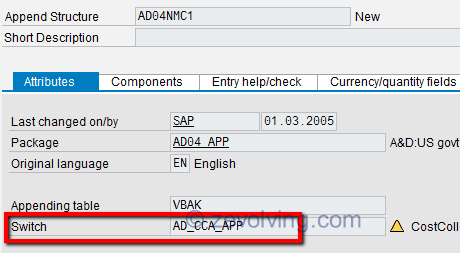 Many Active Append Structures in a table
When you have many active append structures in the table they would be added in the table based on the sorting on the Append structure name. So, if you have an append structure as ZXAVBAK already in the VBAK and if you create a new append structure as ZAVBAK_NEW, the ZAVBAK_NEW would be inserted above the ZXAVBAK.
So, when you add the new field in the table, just make sure you transport the changes in the "quite" time to the production.
Next Article
Enhancement Framework – Append Search Help
Table of Content – Enhancement Framework